Based on what you know about manufactured homes, you may think they tend to be smaller homes with not a lot of space for a full family. While there are smaller manufactured homes, not all of them are this way. Quadruple wide manufactured homes are a type of manufactured housing that has four sections. This helps get rid of that "boxy" appearance you may associate with manufactured homes while providing enough space for all the modern conveniences of a typical site-built home for your family.
An Affordable Option
Unlike a site-built home that you may custom-build or find on the market, a manufactured home is built in a factory—this factor alone makes manufactured homes a lot more affordable.
How Big are Quadruple Wide Manufactured Homes?
There are some misconceptions that manufactured homes are smaller than your average site-built home, but a quadruple wide manufactured home can be well over 2,000 square feet of space. That's equal to or even greater than the national average house square footage for 2022. So if you're looking for a home that will be comfortable enough for you, your family, and even a spare room or two, a quadruple wide manufactured home gives you the space you need at a fraction of the cost. Prestige has Manufactured Homes up to 2,650 sq. ft!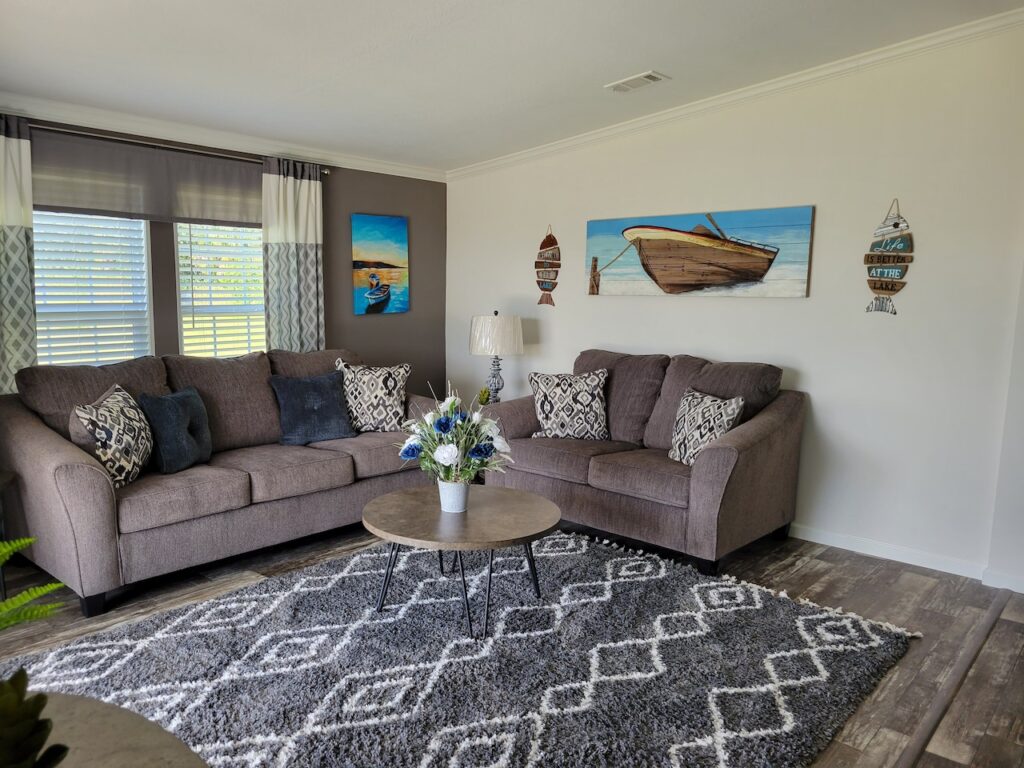 Customized to Your Needs and Wants
No need to worry about compromising on your vision of your home with a quadruple wide manufactured home. Because your home will be built in a factory, you can design the floor plan to your exact specifications. With all the extra space a quadruple wide home provides, you can fill your home with all the modern amenities such as custom cabinet space, a large family room, extra closet space, a master bedroom with full bath and shower, and even a fireplace—of course, if you think you'll use it when the Florida heat subsides a bit.
Built to Last
One of the biggest concerns for Florida homeowners is how their homes will fare during a hurricane. There's a common belief that manufactured homes are not built to withstand the high winds that come with hurricanes; however, this is not true. Manufactured homes are built to meet the Federal Manufactured Home Construction and Safety Standards which tend to be even stricter than the standards for site-built homes. Like any other home or building in Florida, you'll have to prepare your quadruple wide manufactured home before a hurricane, but you can rest assured knowing that your home was built to last and withstand the high-speed winds and heavy rain that come with Florida's hurricane season.
Protect the Environment
Because quadruple wide manufactured homes are built in a factory, you're actually helping the environment when you purchase one. A site-built home of a similar size produces excess waste and causes environmental damage to the local area. In a factory, waste is significantly reduced since there's no need to worry about external factors such as the weather.
Beyond the building phase, manufactured homes are much more energy efficient. The materials used for quadruple wide manufactured homes provide additional insulation so that your home remains cool in the summer and warm in the winter without you constantly changing the temperature. The modern features you can add to your home also help keep your energy bill low and save you money.
Find Your Quadruple Wide Manufactured Home with Prestige
At Prestige, we offer a wide range of floor plans, including quadruple wide homes. If you want a high-quality home for less, we are happy to help! You can customize your new home to your needs and wants, so that you walk into your dream home without needing to renovate after the fact. We even offer financing and insurance options for your convenience. If you're ready to find your new dream home, visit one of our model centers today!